30-DAY SATISFACTION GUARANTEE

FAST SHIPPING, Ships in 2 - 5 Days
Regular price
Sale price
$47.00 USD
Unit price
per
Sale
Sold out
alpha-pharaoh-pre-workout
false
Purchase options
One-Time Purchase
Subscribe and Save
Delivery Frequency
Subscription with prepaid
each
Save(skin1)
prepaid
pay as you go
Save
Full price
each
Off
Just once
Off
each
(Full price)
Renews every:
from
UP To
Pay
save up to
Natural Key Ingredients

Nothing matters more to us than the safety and effectiveness
of our products. Alpha Pharaoh is composed of meticulously selected
ingredients, each serving a unique purpose for your fitness journey:

 

Beta Alanine (for endurance and reduced muscle fatigue)

Tart Cherry Extract (to accelerate muscle recovery)

Caffeine Anhydrous (for an energy surge)

Natural Flavors (for a delicious taste)

Alpha Pharaoh contains NO harmful substances or illegal
compounds. All ingredients in Alpha Pharaoh are expertly dosed and undergo
rigorous quality control from our trusted suppliers.

**Alpha Pharaoh is crafted in our FDA-approved facility in Alpharetta,
GA, and has undergone extensive research and development for over a year to
ensure its excellence."

 

This conversion aligns the content with the natural key
ingredients of Alpha Pharaoh and emphasizes the brand's commitment to safety,
effectiveness, fairness and quality control.
How To Use

We recommend taking Alpha Pharaoh at least 30 minutes before your workout for optimal results. Please note that we recommend using half a
scoop to assess tolerance.

While the duration of effectiveness may vary from person to person, the effects of Alpha Pharaoh is designed to work throughout your workout session.

*Limit use to 1 scoop per person per day.

*Alpha Pharaoh is not intended for use by individuals under the age of 18. If you are pregnant, nursing, taking any medication, or have any medical condition, consult your doctor before use. Those sensitive to caffeine should exercise caution before consuming Alpha Pharaoh.
Shipping and Returns

We offer standard 2–3 day shipping via USPS for $9.99. Cost of shipping can slightly increase when purchasing more than one canister due to the increase of shipping weight.  

All orders are tracked and delivered in carefully
temperature-optimized packaging, with same-day fulfillment on weekdays.

30-DAY EASY RETURNS AND REFUNDS

If Alpha Pharaoh doesn't meet your expectations, we ensure hassle-free refunds and returns, simple to initiate. Contact us via email at info@wellsayedlabs.com.
View full details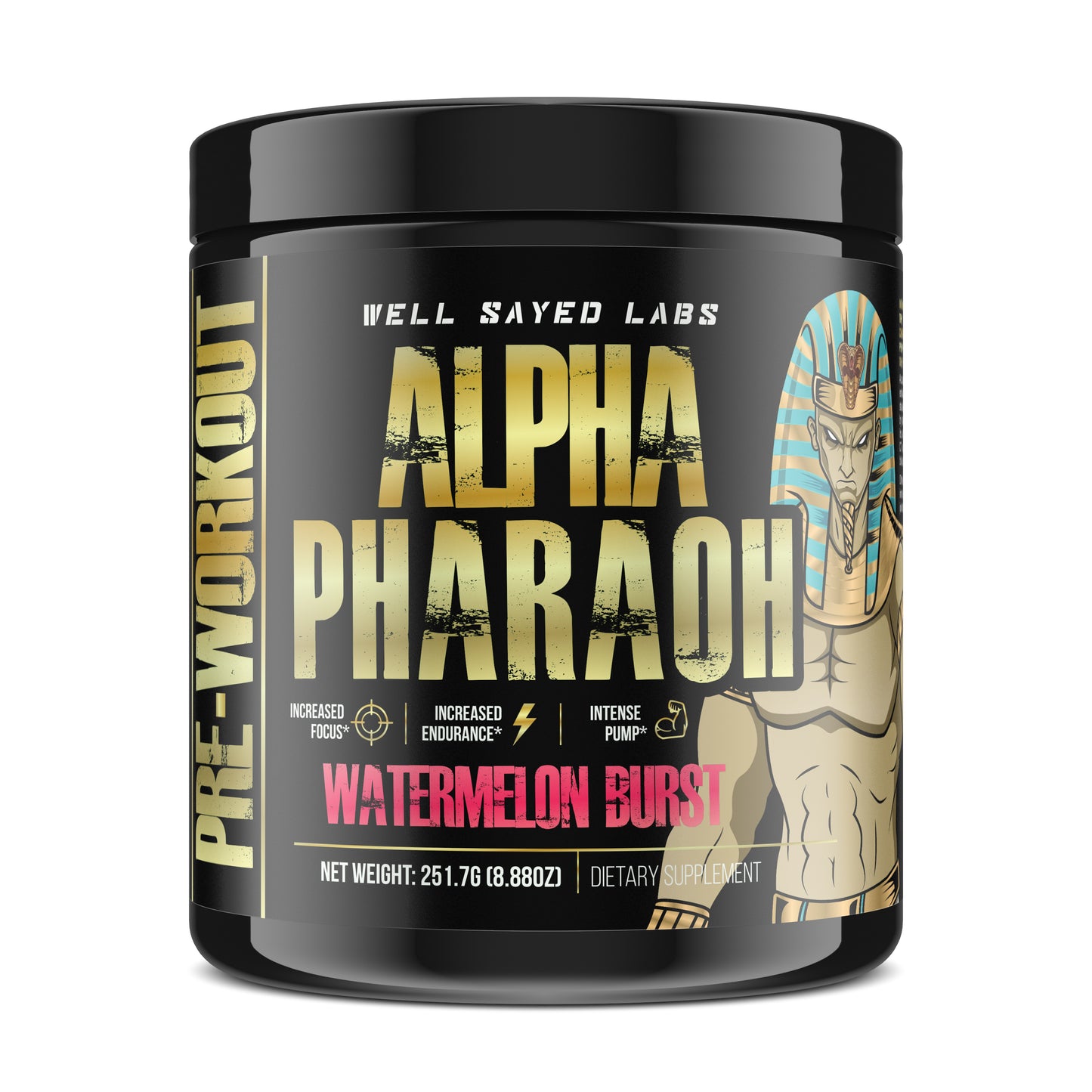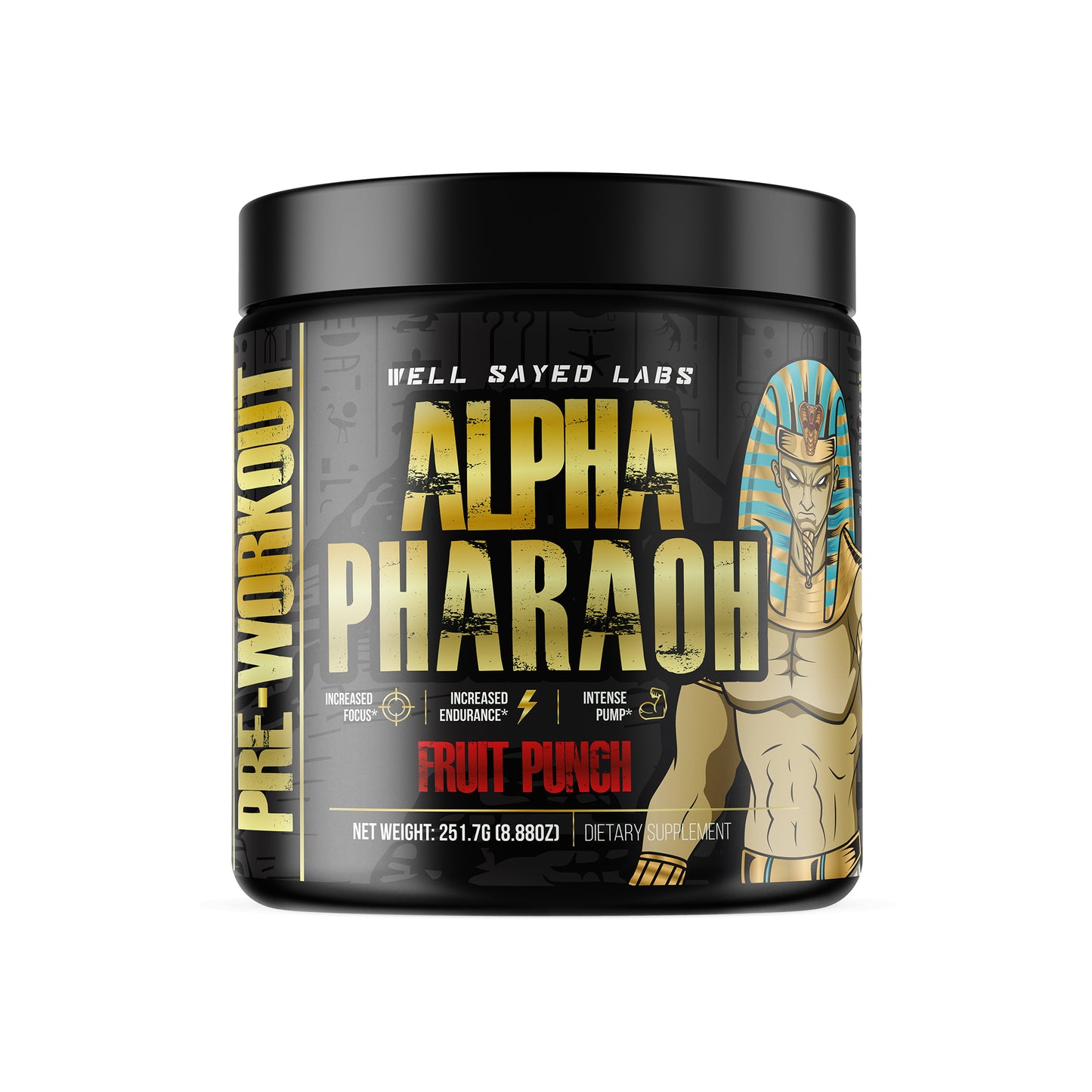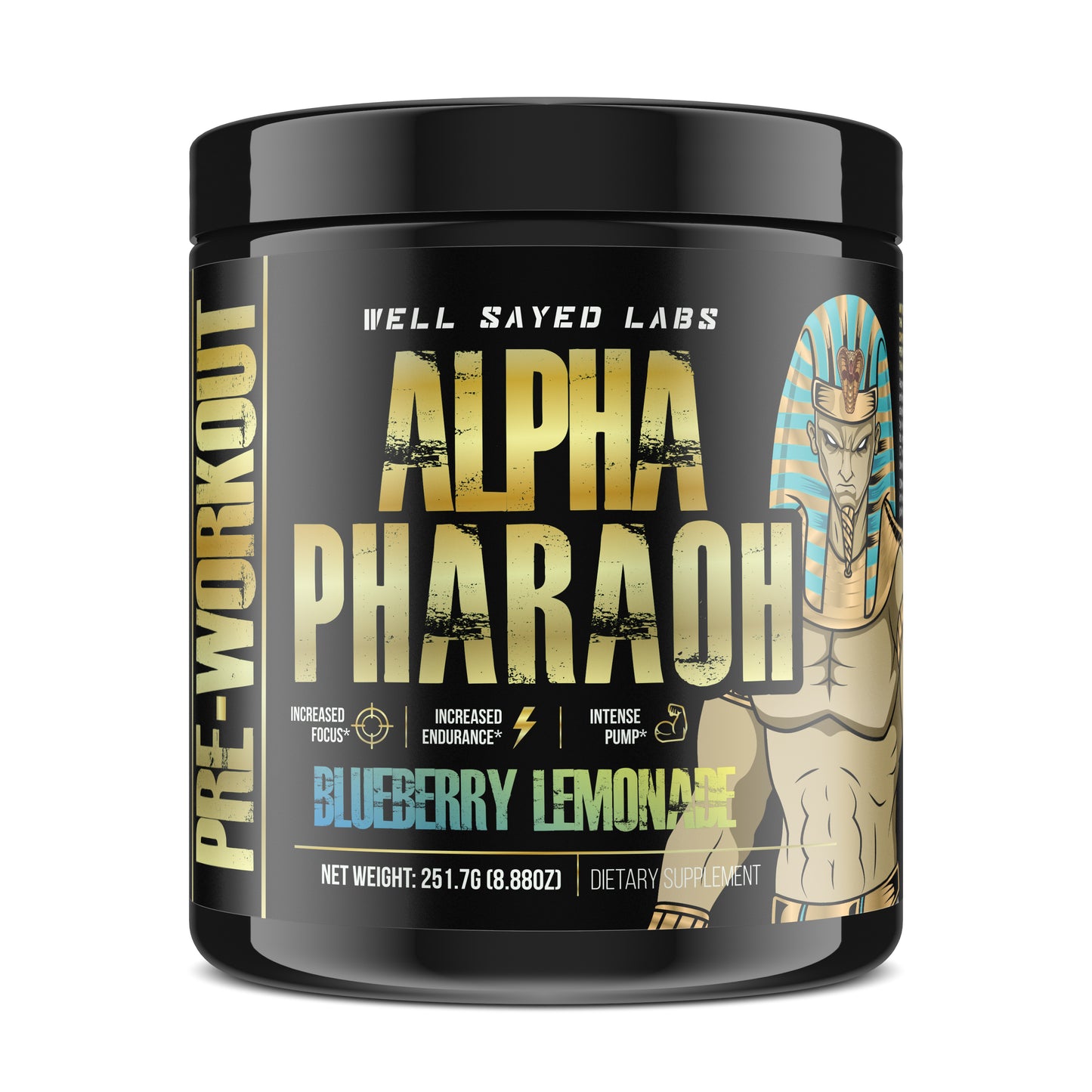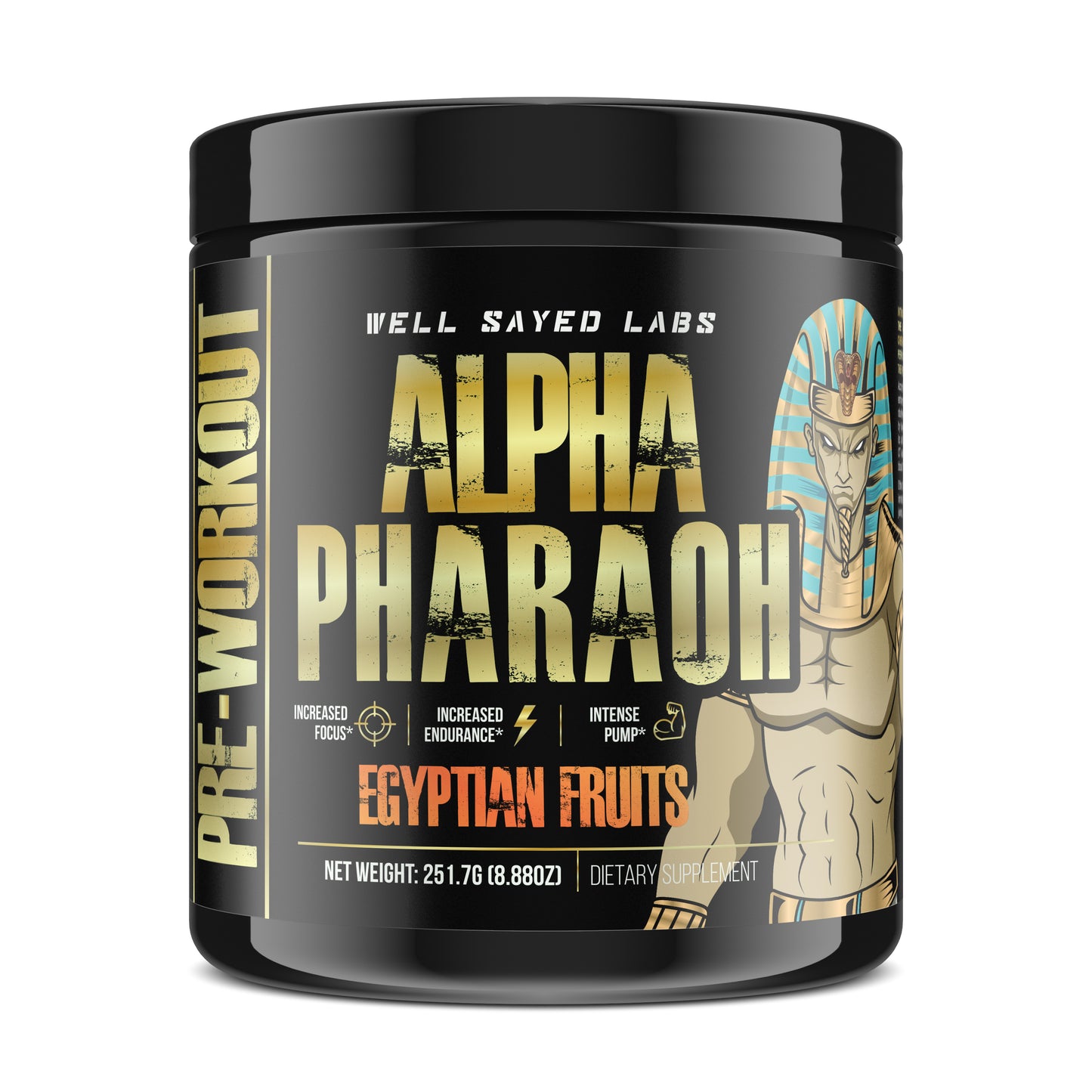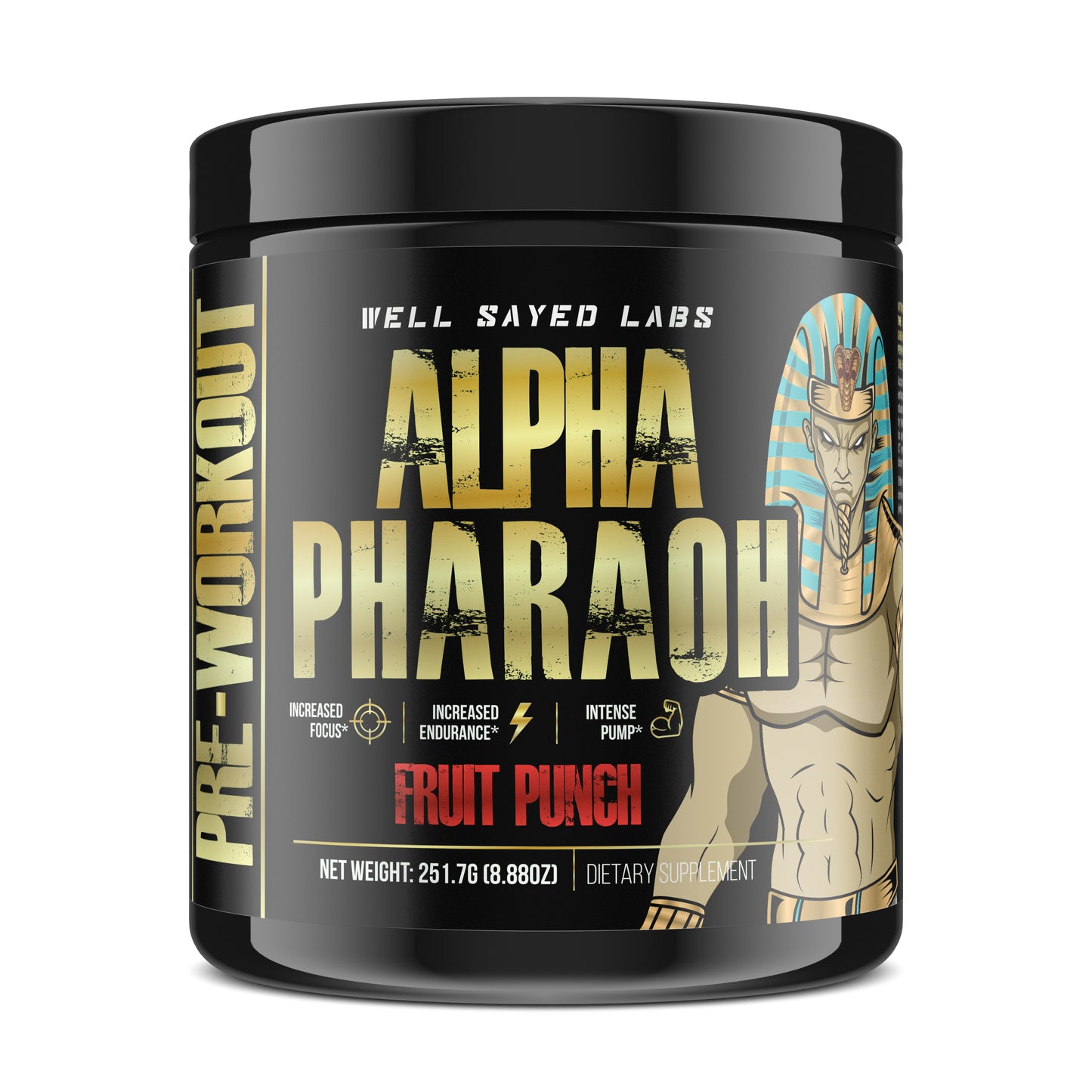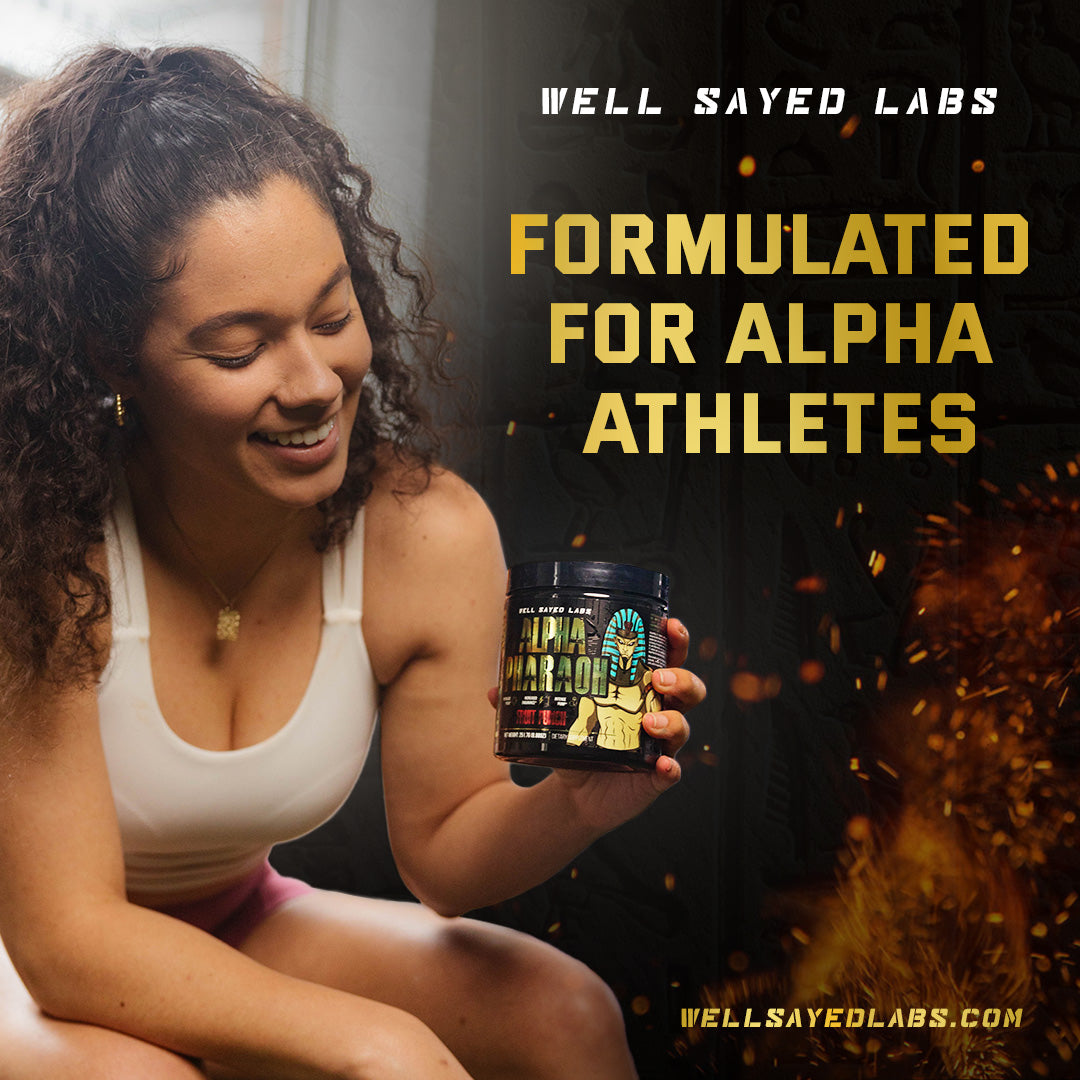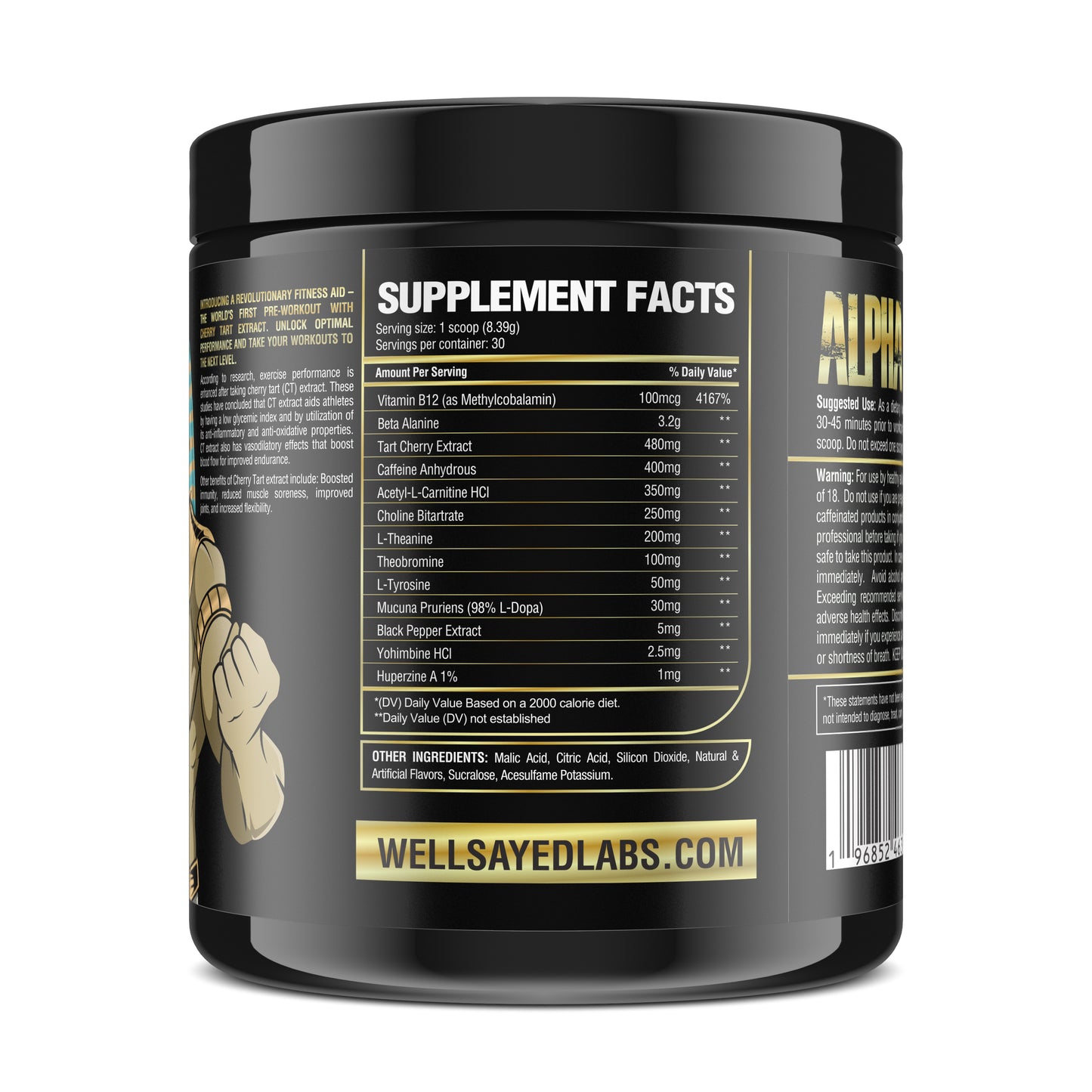 Safe & Effective Ingredients

Made inthe U.S.A.

Free & Easy 30-day Returns

Fast Shipping (2-5 days)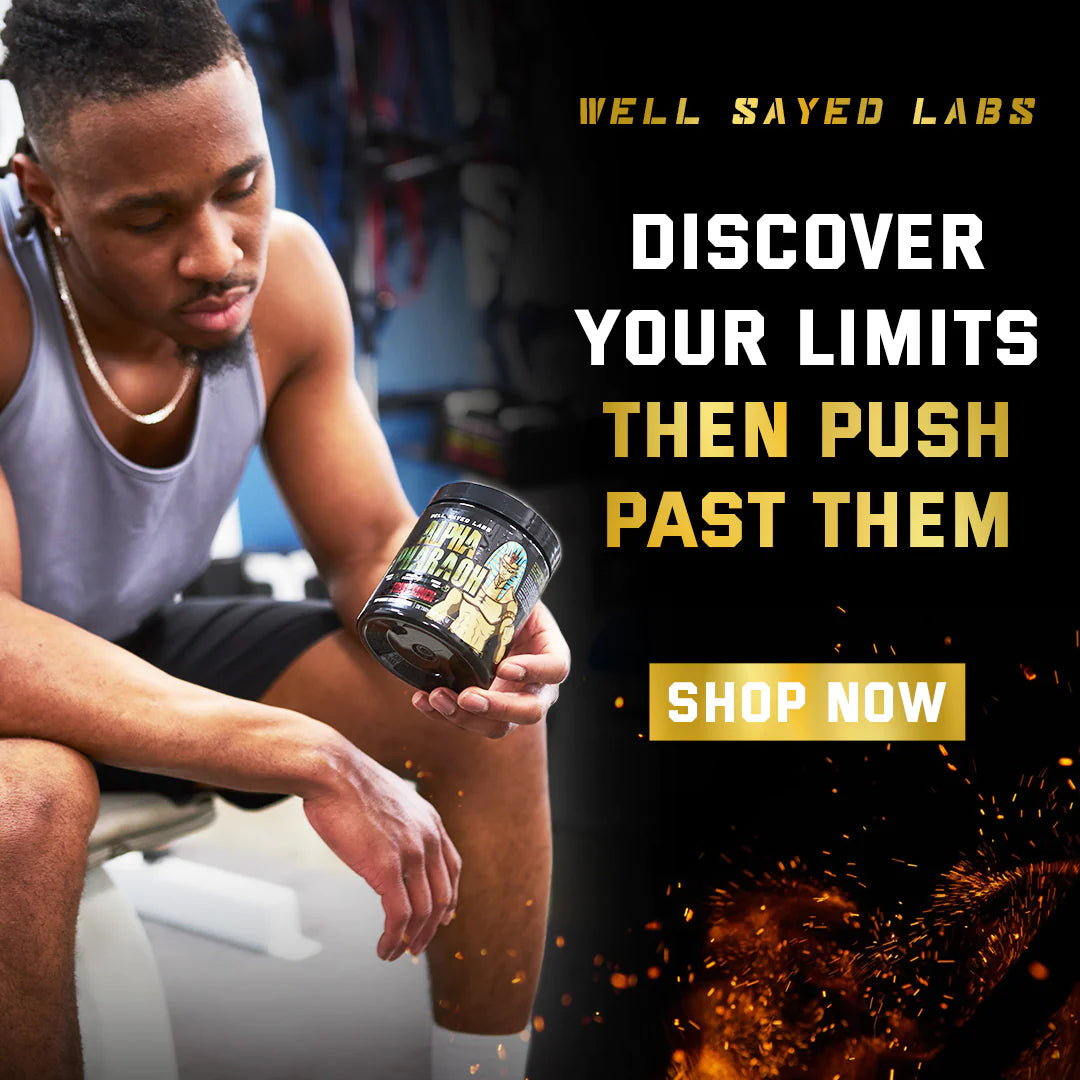 Shake. Drink. Dominate.
Featuring a blend of potent ingredients, including Beta Alanine, Tart Cherry Extract, and Caffeine Anhydrous, Alpha Pharaoh is meticulously formulated to elevate your workout experience, amplify your senses, and intensify your performance.
Simply mix one scoop of Alpha Pharaoh with water 30 minutes before your workout.
Effects can last through your most demanding workouts.
💪 Ignites Energy*
🔥 Enhances Performance*
🚀 Unleashes Your Potential*
SHOP NOW
EVERY CUSTOMER NEEDS TO KNOW
MORE CUSTOMERS REVIEWS
RAQUEL G. FRISCO, TX

⭐⭐⭐⭐⭐
I recently tried Alpha Pharaoh preworkout supplement and I must say that it exceeded my expectations. The flavor was incredible - a refreshing fruit punch that was not too sweet or artificial tasting. I felt the energy kick in almost immediately and it enabled me to have an amazing workout session. As a gym-goer, I really appreciated the boost of energy and increase focus that allows me to push through my reps. I highly recommend Alpha Pharaoh for anyone looking for an effective preworkout supplement.

JACOB P. SCOTTSDALE, AZ

⭐⭐⭐⭐⭐
I recently tried Alpha Pharaoh preworkout supplement and it was amazing! I was anticipating the flavor because I'm usually not a fan of fruit punches, but this tasted amazing. Even better, the energy boost I got from it was incredible. My workout felt more intense and I had the energy to push myself further than ever before. After my session, I didn't feel any crashes or jitters like some preworkouts can give you. All in all, Alpha Pharaoh is an incredible product that gives you maximum results in the gym.

JAME C. ARLINGTON, TX

⭐⭐⭐⭐⭐
I've been using Alpha Pharaoh preworkout supplement for the last few weeks, and I'm impressed. The flavor is amazing - fruit punch - and it tastes incredible. It's also very effective; I take a lot of preworkout and all I needed was just one scoop to feel the energy surge through my body and give me an impressive workout. My powerlifting workouts have been going great since I started taking Alpha Pharaoh, so I'm definitely a fan of the product. It doesn't contain any artificial colors or flavors, which is always a plus, and it contains all natural ingredients that help fuel my sessions. Highly recommend trying out Alpha Pharaoh if you're looking for a quality preworkout supplement.
Nutrition Facts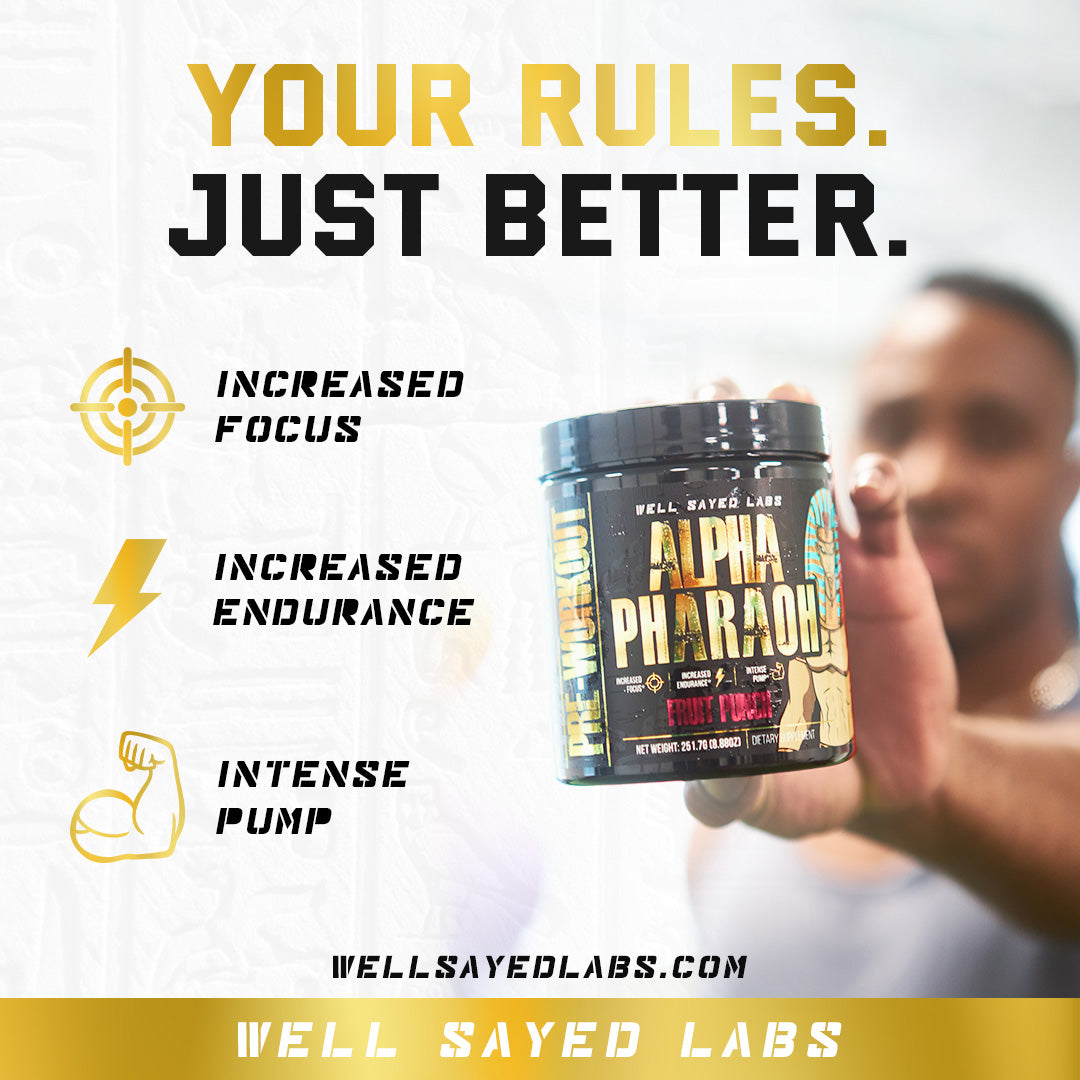 Tart Cherry Extract 480mg

Lessens pain and accelerates strength recovery after exercise and decreases blood markers of inflammation/oxidative stress. These improvements occur in both strength and endurance exercise. The only Cherry Tart pre-workout.
Caffeine Anhydrous, 400mg

Caffeine—anhydrous or natural—is well established as a performance enhancer. Numerous studies and reviews have found that caffeine enhances endurance performance in activities like lifting, running and cycling.
Acetyl-L-Carnitine HCI, 350mg

Acetyl-L-carnitine (ALCAR) improves mood, learning, and memory by aiding in the process that delivers energy to your cells. ALCAR also helps your muscle mitochondria burn fat, which can increase your endurance, give you an edge in the gym and help you recover faster.
Choline Bitartrate, 250mg

Helps provide support for absentmindedness and maintain memory recall. It is also being studied for its ability to maintain neuromuscular function as you age, since choline helps nerves interact with muscles
L-Theanine, 200mg

Supports a better recovery through its relaxation and mental regeneration effects after intense exercise, it helps create an environment that's more suitable and efficient for recovery.
Theobromine, 100mg

Theobromine is a natural compound present in cocoa products. Theobromine is sometimes used in pre-workout products because it is believed to: Improve mood & Increase blood flow.
L-Tyrosine, 50mg

L-tyrosine has been shown to provide increased energy and endurance. This is great for all athletes and for anyone who works out regularly.
Mucuna Pruriens (98% L-Dopa), 30mg

Herbal drug used for the management of male infertility, nervous disorders, and also as an aphrodisiac.
Black Pepper Extract, 5mg

Improves absorption rate and overall thermogenesis properties to help with energy and increased internal temperature. Increased metabolism rate has also been linked to Black Pepper Extract to help regulate body weight.
Yohimhine HCI, 2.5mg

The bark has been used traditionally as an aphrodisiac and to enhance sexual performance. Yohimbe is promoted for erectile dysfunction, athletic performance, high blood pressure, diabetic neuropathy, and more.
Huperzine A 1%, 1mg

Huperzine was reported to significantly increase the amplitude of muscle contraction induced by nerve stimulation [25]. Thus, one could suggest that huperzine may improve neuromuscular strength potential, alertness and focus by increasing the endplate potential and brain neurotransmitters levels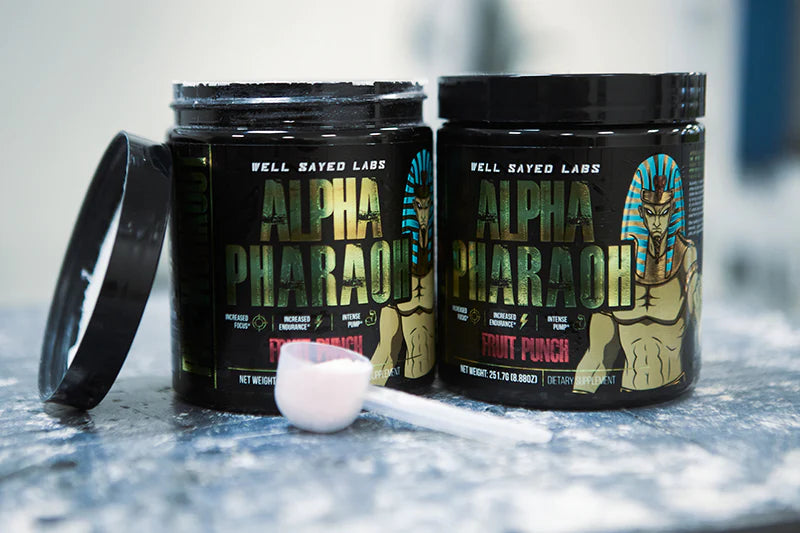 MAXIMIZE MUSCLE GROWTH
Alpha Pharaoh pre-workout supplement has been scientifically formulated to help you achieve the maximum muscle growth potential from your training. Each serving is packed with ingredients like Vitamin B12, Beta Alanine, tart cherry extract, and caffeine anhydrous that all work together synergistically to help you get the most out of your workouts.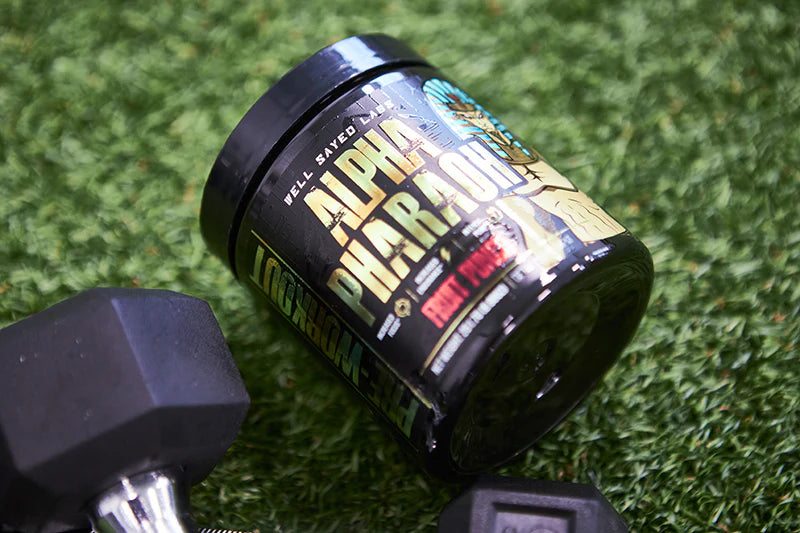 FIGHT FATIGUE & BUILD STRENGTH 
Not only does our supplement help you pack on muscle mass, but it also helps prevent soreness and fatigue during intense workouts. Thanks to our blend of Beta Alanine and tart cherry extract, you'll be able to push yourself harder for longer periods of time without succumbing to burnout.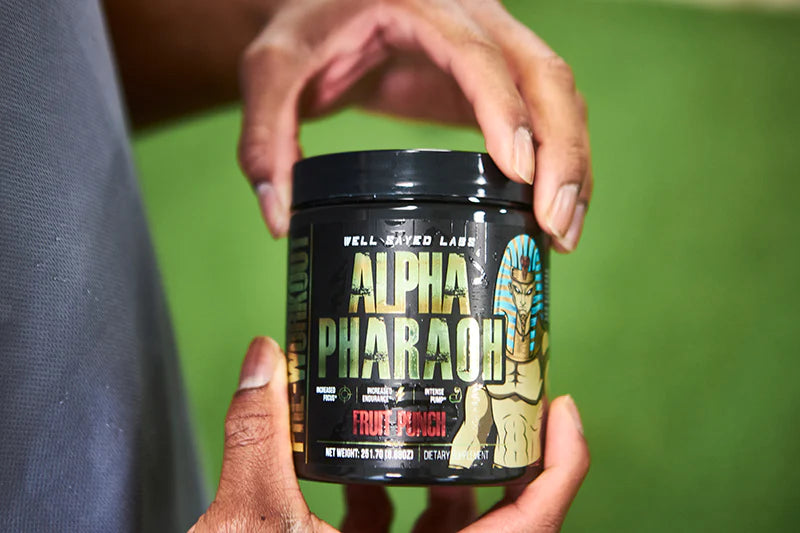 ENERGY & RECOVERY 
Are you looking for a pre-workout that can also help speed up your body's recovery process? Look no further than Alpha Pharaoh! Our unique blend of ingredients includes caffeine anhydrous which aids in energy production, meaning you'll be able to get back in the gym sooner rather than later.